Have you ever heard of honda electric scooter? We've all seen thousands of Japanese brand motorcycles out there, however, a motorcycle in the scooter model and that is electric is likely not. We're talking about a motorcycle cheaper than a cell phone!
That's what you read! The U-BE model is an electric scooter model from the Japanese giant Honda and was launched a few months ago in China at an extremely low price: 475 dollars, that is, approximately 2,500 reais.
Few people know this, but the honda electric scooter can be driven even if its driver does not have a national driver's license (CNH) and has a number of advantages over a common motorcycle. Read the article and learn more!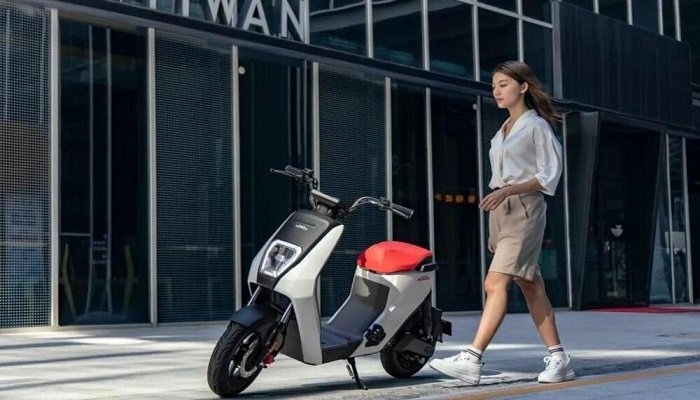 Motorcycle, scooter and scooter: understand the difference between them
We bet that very few people know that, "on motorcycles", the drivers are "mounted", while on "scooters" (such as Honda Biz) and "scooters" (such as Honda PCX), their drivers are "sitting". Did you know this difference?
Some items like the suspension and frame of a motorcycle tend to be bigger and more robust. The reason for this is to ensure more stability and conditions to face asphalt and bad terrain. Motorcycle wheels are, on average, 17 inches.
In the case of scooters and scooters, the wheels are smaller. The Honda Elite 125 scooter has a 12-inch front wheel and a 10-inch rear wheel. The Biz scooter has 17 inches on the front wheel and 14 inches on the rear wheel.
Meet some electric scooters we found in Brazil
In various parts of the world, electric motorcycle models, similar to the technology used in the honda electric scooter is a trend, in addition to being a very promising market, but in Brazil it is just beginning.
In our country we can find at least 5 different models among motorcycles and scooters that are sold and that already make financial joy and conquer the hearts of its users. We have national and imported models.
Among the imported ones we have two Chinese scooters. They are "Shineray SE1 Lito", "Aima Xiao Qing" which are sold between R$ 10,000 and R$ 12,000. In the Brazilian scooter category we have the "Voltz EV1 Sport" sold on average for R$ 13,000.
Two models of electric motorcycles sold in Brazil
It makes us very proud to know that our country has been producing electric motorcycles and that they are not far behind when compared to imported models. In Brazil today two models stand out.
The first is the "Voltz EVS" which has a construction similar to a street model motorcycle. It has a colorful panel, which connects to your smartphone, informing the location of the motorcycle, GPS navigation, motorcycle connection and recharge data.
The second is the "Energie Mobi Super Soco TC", whose design is retro (50's) with a modern design. The dashboard has LCD screen and analog gauges and LCD screen. It has a Bosch engine with three power levels and LED lighting.
What are the main advantages of honda electric scooter
If you've read this article so far, you might be wondering if it's worth buying a motorcycle or scooter in the electric model or staying with the traditional models that run on gasoline.
It is important to know that models of scooters and motorcycles such as the Honda electric scooter are launched frequently and are here to stay, as their main characteristic is to generate savings for their users and profit for society.
Maintenance cost, energy costs and time to recharge the battery are just a few of the many benefits. Find out below good reasons that will make you decide to buy an electric motorcycle or scooter for you:
They don't pollute our environment because they don't emit any kind of toxic gases. For you who have children and want them to live on a less polluted planet, this is a very relevant factor.
Greater savings in terms of paying taxes, something that here in Brazil is a cause for joy, given the excessive tax burden we face. less taxes. These electric models pay less tax than traditional motorcycle and scooter models.
The economy for your pocket is perhaps the greatest advantage that we will present here. They are extremely more economical when compared to a traditional motorcycle or even a car. Who doesn't like to spend less?
You will forget that there are gas stations! After all, you can charge batteries practically anywhere, using the materials that are purchased along with electric scooters and motorcycles.
Reduction of noise pollution, as these models of electric scooters and motorcycles are extremely silent. Our ears thank you.
You will save on maintenance, as electric motors require much less maintenance than gasoline engines. No more changing filters, spark plugs or oil. Having an electric motor is just joy!
U-BE: honda's electric scooter will soon be able to be purchased via app on your mobile phone
You already own the application "aliexpress" downloaded on your mobile phone? Download right now. With it you can buy many things, including some models of electric scooters. It is available for Android and iOS.
The honda electric scooter model U-BE is not yet available for sale here in Brazil, but we are able to bet that, in the app above, you will soon find it to buy.
Visit our website and check out our tips for courses
Now that you know everything about this Honda novelty that costs less than a cell phone, stay tuned for news about it. We are sure that soon you will be the owner of such a wonder! See you soon.